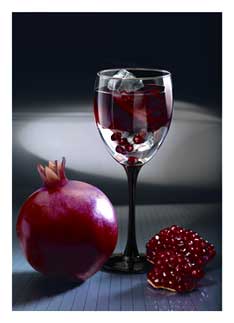 Quality certificates :
Pomegranate and Natural Pomegranate Juice
Pomegranate (انار) is native to the region of Persia (modern day Iran) and the western Himalayan range.
Pomegranate was the symbol of fertility in ancient Persian culture. Even in today's Iran pomegranate sometimes implies love and fertility.
Iran produces significant amount of high quality pomegranate every year. Pomegranate juice and in particular the paste has an essential role in some of the Iranian cuisines, e.g. Fesenjoon, chicken and some types of ghormas.
In preliminary laboratory research and clinical trials, juice of the pomegranate may be effective in reducing heart disease risk factors, including LDL oxidation, macrophage oxidative status, and foam cell formation.
Dr Bogle said: "This study will test the idea that drinking a glass of pomegranate juice every day improves the function of blood vessels, reduces hardening of the arteries and improves heart health."
Preliminary studies suggest that pomegranate juice may contain almost three times the total antioxidant ability compared to the same quantity of green tea.
Other Iranian pomegranate products:
Pomegranate Paste | Natural Pomegranate Juice | Pomegranate Syrup | Pomegranate Sauce | Pomegranate Marmalade