Gaz
Persian nougat (in Persian گز)
Gaz is the traditional name of Persian nougat originating from the city of Esfahan, located in the central plateau of Iran.The name gaz is associated with gaz-angebin which translates to "sap of angebin"; a desert plant member of the Tamarisk family and native to the Zagros mountain range located to the west of the city.
The sweet, milky sap of the angebin plant is associated with manna, a food mentioned in the religious texts of the Abrahamic religions. This sap is collected annually and is combined with other ingredients including pistachio or almond kernels, rosewater and egg white. This combination of ingredients gives gaz its distinctive flavour, rendering it unique when compared to European nougats.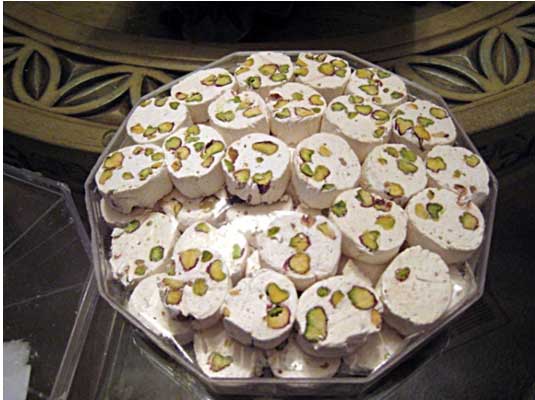 Iran Medical Herb Exports Traditional Iranian sweets to all around the world, for ordering Iran Gaz please visit our Order page.
Other Traditional Iranian Sweets:
Gaz | Baslogh | Nabat | Noghl | Sohan | Poolak | Pashmak | Nogha | Baklava